Cladding Systems
Profiled Metal Cladding
Profiled roof systems are best suited for roof pitches greater than 5 degrees. The profile is made up of a series of corrugations, each in the shape of a trapezium (Trapezoidal Profile), which lap together side to side and end to end, making it very easy to cover varying areas of roof quickly.
The profile sheets are typically coated steel, but can also be supplied in aluminium, and have mastic seals located in the end and side laps.
Trapezoidal roof systems are cost effective, lightweight and suited to a wide variety of applications, including new build and refurbishment, and there is a broad selection of colour, finish and profile shape. For industrial applications trapezoidal roof systems proves are particularly ideal, but are also suited to commercial or retail applications where the roof may be concealed behind a parapet.
Profiled wall systems utilise metal cladding with trapezoidal, sinusoidal or half round profiles fixed to the steel structure of a building. Cladding panels can be laid horizontally or vertically and can be manufactured from prefinished steel or aluminium in a vast array of colours; providing a wide choice of aesthetic finish.
Composite Cladding
This is a cost effective 'pre-layered' roofing system which includes the lining, insulation and top sheet all in one panel. The composite panels are available in a wide range of coatings and insulation thicknesses. They also have guaranteed structural & thermal performance
Composite roof systems are ideally suited for commercial and industrial projects delivering a very fast and economical installation.
Composite roof systems are suitable for roof slopes of 1.5 degrees or more (after deflection). These systems provide an economic and fast build. Composite roof systems are suitable for applications on curved roofs with a minimum radius of 150 metres.
Composite wall systems are through-fixed wall systems which can be laid vertically or horizontally. The systems provide simple and very fast site installation with options of valley or crown fixings, using matching colour headed fasteners. The system provides reliable thermal performance and low air leakage with a long term lifecycle.
Standing Seam Roofing

Standing seam roofing systems for the building envelope enables you to create innovative, long-lasting, high performance and low maintenance solutions using steel or aluminium profiled sheets.
Standing seam is suitable for both warm and cold roof constructions - any shape including curved and/or tapered, and from 1.5 degrees upwards.
Flat Roofing
For structures requiring flat roofing any pitch below 1.5 degrees, PVC (Polyvinyl Chloride) and TPO (Thermoplastic Polyolefin) membranes manufactured in a range of thicknesses and colours are ideal. They can be fully bonded to a substrate or insulation layer, mechanically fastened or laid loose under ballast or paving to suit the specification.
These systems are also appropriate for pitched roofs and can reproduce the appearance of traditional metal roofing systems such as lead, copper, or aluminium at a fraction of the cost as well as providing aesthetically pleasing finished flat surfaces. A factory engineered flat roofing system comprises of a high performance single ply membrane with insulation and a trapezoidal steel structural deck.
Installation on site is carried out by fully trained contractors using the appropriate hot air welding equipment to weld all overlapping joints on site. This forms a seam stronger than the membrane itself.

Siphonic Drainage Systems
First introduced in the 1960's in Scandinavia and since then has been used widely across Europe, including the UK, in the Far East, Australasia, South Africa and the USA. Many large industrial, commercial and retail buildings are now fitted with siphonic drainage, which has the following advantages over traditional gravity drainage systems
Only one or two downpipes are needed per gutter, freeing internal space.
Reduces underground drainage, saving on cost and programme time.
Eliminates the need for almost all under slab drainage.
Utilises a fully sealed, leak free pipe system.
We only supply siphonic drainage systems approved be the Siphonic Roof Drainage Association (SRDA)
Rooflights
Daylight is an important natural resource that improves the internal environment of a building and can reduce energy costs. Rooflights provide up to 30% more light into a building than the same area of vertical glazing.
Rooflights are easily incorporated in roofs. The range includes site assembled double and triple skin rooflights, factory assembled composite rooflights and dome rooflights. The versatile nature of rooflights means the desired amount of daylight is easily achieved without compromise to the building's safety, design and character.
Rainscreen
Rainscreen facade is a cladding applied either during primary construction or as an over cladding to an existing structure. Rainscreen cladding consists of an outer weather-resistant decorative skin fixed to an underlying structure by means of a supporting grid, which maintains a ventilated and drained cavity between the façade and the structure.
The building can be further enhanced by offering different tile modules, various colours and glazed tiles or feature channels. Tile modules can range from 150mm to 400mm high and up to lengths of 1500mm. We also offer bespoke manufactured feature trims, channels and cills to complement the final appearance.
Rainscreen facades are available in a range of finishes including stainless steel, aluminium, copper, granite, ceramic, zinc, cedar and terracotta. We have installed Rainscreen Facades on a number of developments including commercial buildings and luxury apartments.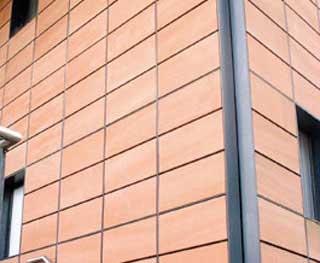 Louvres
Louvres are supplied either mounted on concealed trimmers for a continuous appearance or as individual framed panels. Louvres are of bespoke manufacture as such banks and panels can be made to any practicable size, shape and colour.
Our cladding designers can advise suitable solutions to incorporate into the cladding system.